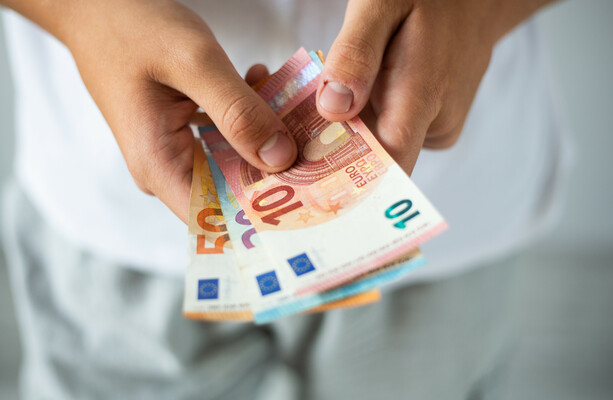 'Unofficial Money Lenders' Targeting People in Line for Soup Shopping
PEOPLE WORKING IN the homeless service sector have raised concerns about so-called "unofficial money lenders" targeting people who line up at soup kitchens.
A number of people who work or volunteer in the sector say the practice has emerged in recent months.
Louisa Santoro, CEO of the Mendicity Institution which supports the homeless in Dublin, said The newspaper that several service users have brought up the "worrying trend" with Mendicity over the past two to three months.
She noted that due to the nature of the soup runs and outdoor food services for those in need, anyone can observe and approach the people in the queue.
"Money lenders target certain services, they hang around soup races at night when they have a captive audience. They approach people and offer to lend them € 50, but the person will owe them € 70 next week – that's 40% interest, "she said.
While this may seem like a relatively small amount of money to many people, Santoro said it could mean a lot to a homeless person or someone struggling to buy food. And the amount of money owed doubles in a matter of weeks.
"If you have no money, literally no coins in your pocket, € 50 is a lot of money. A number of people using our service have borrowed money that they cannot pay back.
"They fear then to come back [to the soup run] or don't feel free to move around town. Some people have asked us if they can borrow money from us to pay off the lenders.
Santoro noted that Mendicity will always advise people not to borrow from money lenders due to the high level of interest and the cycle of debt it creates. However, she admitted that some people did not see any other option.
"Whatever your situation, borrowing money from one of these lenders is not the solution. It's not an economy you want to get involved in.
"I know it's easy for me to say it while sitting in my office. Some people have to make bad choices – if you're lining up at a table on a windy night for a hot meal, you're not in a position where you have a lot of choice and opportunity.
Glenda Harrington, who runs the Friends Helping Friends soup run which runs in Dublin city three evenings a week, has also noticed the trend in recent months.
"It's relatively new but quite common. I have noticed it in the last two or three months. Some people walk past the queue and then hang around the soup run.
"Guys approach people telling them that they will lend them money if they need it. Some people take the money.
Harrington also advises service users not to borrow money, but noted, "People are really struggling, so it's absolutely tempting.
"Then they worry about what will happen if they don't have the money to pay back next week. Once you get stuck on this ride it is very difficult to get off.
Harrington said The newspaper she has already instructed people not to approach people in the queue but, due to her public setting, that can't really be controlled.
In an attempt to prevent people from borrowing money this way, she and other volunteers organized packages of essentials such as diapers and sanitary supplies to be delivered to those in need.
Food poverty
Santoro said The newspaper that people in the roaming industry want to prevent this trend of lending money from spreading. She said that while the soup runs provide an essential service to those in need, a wide range of people join the different lines each evening.
"If you have 200 people in line for food, it is not possible to give them all the individual advice they may need. The person with the fewest needs could be in the same queue as the person with the most needs.
"They are all under one roof, there is no distinction and it is not an ideal way to serve people. Different people need different answers depending on their needs. Nothing is "one size fits all".
#open journalism
No news is bad news
Support the journal
Your contributions will help us continue to deliver the stories that are important to you
Support us now
Santoro noted that if soup groceries meet people's immediate dietary needs, a broader conversation is needed on "tackling food poverty itself".
She said the renewed focus on homeless services in Dublin following the Inner City Helping Homeless (ICHH) controversy should be used as an opportunity to improve service delivery.
"We all need to make sure that we are operating to the highest possible standards," she added.
Between 150 and 200 people engage with Mendicity each week. In addition to catering and day services, the association helps people who have difficulty finding accommodation or work.
The Dublin Homeless Authority said last month it plans to seek greater regulation of organizations providing services to homeless people in the capital as soon as possible following the ICHH controversy .
Dublin City Council Deputy Managing Director Brendan Kenny, who is responsible for the Dublin Regional Homeless Executive (DRHE) in his role, previously said The newspaper he does not want an "over-regulation" to lead to the dissolution of certain groups but adds: "For the moment, there is nothing and it is not enough".