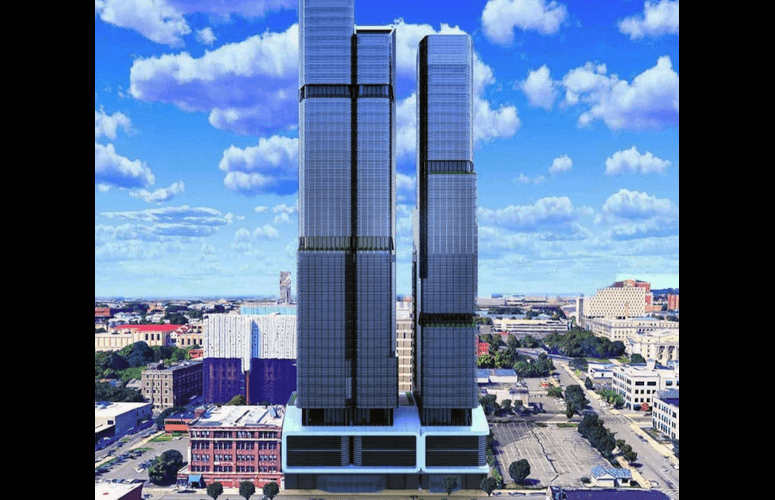 The Halo Newark; $90 million construction loan secured
The Halo Newark Tower secured a US$90 million construction loan. Parkview Financial and Acier Holdings have secured the loan for the construction of the first phase of what will be the tallest building in the city of Newark, New Jersey. During this phase of construction, The Halo will be a 43-story high-rise residential property with 297 units on 38 levels on a five-level parking deck. With this loan in place, Phase I construction will begin immediately, with completion scheduled for January 2024. The building's address will be 289-301 Washington Street. The mix of units will include 156 studios, 84 one-bedroom apartments and 57 two-bedroom units on a 62-acre property site.
Also Read: Construction loan secured for New Jersey mixed-use development
The Halo Newark Tower will feature a swimming pool, sauna, fitness center with state-of-the-art equipment, a game room, various lounges, conference rooms with private offices, communal workspaces and a rooftop- terrace with panoramic views of Newark, the Manhattan skyline. , and beyond are part of the common area facilities. The building will be equipped with state-of-the-art technology, with the aim of achieving 93% energy efficiency. Acier Holdings bought the land in 2017 and subsequently received permission for a three-phase project with a total of 949 apartments in three towers. The City of Newark licensed the project with a Payment in Lieu of Taxes (PILOT) tax abatement program that reduces property taxes to 10% of income for 30 years. Phase I includes 30 low-cost apartments.
The Halo Newark Tower Collaboration
"Parkview Financial is thrilled to partner with Acier Holdings on what will be a historic addition to Newark's skyline." "Newark continues to witness billions of dollars of capital investment for new projects and redevelopments, and we have recognized this as a growing rental market for its citizens, convenient for Manhattan and other centers of key job," Paul Rahimian, President and CEO of Parkview Financial, said. The Halo is one mile east of Rutgers University Hospital and Medical Center and one mile north of Rutgers Newark Campus. Newark Penn Station is three-quarters of a mile northeast, with connectivity to the area provided by New Jersey Transit, Amtrak, and PATH trains.
If you have any remark or more information about this article, please let us know in the comments section below.