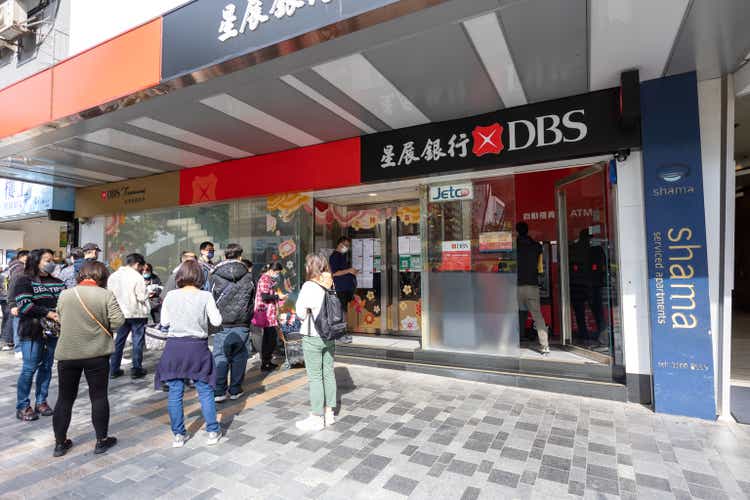 DBS Group shares undervalued as investors fret over macro scenarios (OTCMKTS:DBSDF)
DBS Group (OTCPK:DBSDF) (OTCPK:DBSDY) hasn't had perfect quarterly reports since my last update, but the underlying performance of the bank has been better than the fundamentally flat price performance suggests of action. This is understandable that investors are worried about the impact of rising rates on Asian economies (and borrowers) and the risk that the turmoil in China's real estate sector will spread, but this worry seems to be excessive compared to the quality credit and the earning power of the business over the next year or two.
DBS Group will always be a higher risk investment than a bank like Bank of America (BAC) given the company's exposure to multiple economies, including more volatile markets like China, India, and India. Indonesia, but I wouldn't ignore the strong capital returns this bank has generated over full cycles, nor the efforts the company has invested in establishing itself as a meaningful digital banking presence in multiple growth markets. I think equities are undervalued by at least 10% today and valued for long-term annualized total return in the below-teen average range.
Fee income and loan demand recover some leverage from DBS rates
DBS Group is the most sensitive to Singaporean bank assets and quite sensitive on an absolute basis, with a 100 basis point change in US rates expected to drive net interest income growth of around 20%. This rate leverage has happened even faster than analysts, or the bank's management itself, expected to see, but the benefits of this rate leverage have been somewhat somewhat tempered by challenges in other parts of the business.
Revenue rose 6% year over year and 1% quarter over quarter in the second quarter, missing expectations by about 1%. Net interest income was strong, up 17% yoy and 12% yoy, and beat expectations by 2%, net interest margin improved 13bps yoy (at 1.58%) having exceeded expectations. Growth in earnings assets (up 7% yoy and 5% yoy) was a little slow, however.
Non-interest revenue was down 11% yoy and 14% yoy, missing 6%, with fee-based revenue down 12% yoy and 14% qoq . Card fee revenue growth remained healthy (up 23% YoY and 9% YoY), but DBS Group was hit hard by lower wealth management fees (down 21% YoY). % year-on-year and 17% year-on-year) linked to market volatility.
Operating expenses increased 7% year-on-year and 1% year-on-year, beating expectations of approximately 2%, as management continues to invest in the bank's long-term growth (including continued investment in digital capabilities and brand building in growing markets).
Pre-provision earnings were up 4% yoy and 1% yoy, missing 4%, and while I think DBS Group is undervalued and undervalued, the reality is that three failures Consecutive pre-provisions do not help the bullish argument. Attributable profit increased 7% year-on-year and 1% year-on-year and exceeded expectations by 2%. In the "battle" of attributable earnings and pre-provisioning earnings, I generally pay more attention to the latter, as credit costs are more volatile from quarter to quarter and I believe that DBS is at a point in the cycle where provisioning will be less of a sustainable source of upside.
Lend is not seeing as much strength as I would like
DBS Group posted loan growth of 7% yoy and 1% qoq in the second quarter (at constant exchange rates), and that's kind of what I wanted to see. Lending to industrial customers is rising sharply, up 18% yoy and 22% yoy, as businesses seek loans to finance working capital and capacity expansion, but housing and "general trade are slower.
The flat sequential performance of housing loans is not too surprising given Singapore's continued efforts to contain the housing market, but the flat year-over-year performance of general trade loans (up 4% yoy) is more disappointing given general economic conditions. Building and construction, up 13% year-on-year and 4% quarter-on-quarter, is stronger, however.
I don't expect a particularly quick or sharp rally in the DBS Group's core housing loan markets, but I do see it possible for general commercial lending to accelerate further and manufacturing lending to remain strong . However, the situation in China deserves to be watched, as the real estate sector there is under severe strain. DBS Group management has valued its exposure to property developer loans at around S$2 billion, or about 0.5% of all loans, but those loans are concentrated among the largest and most liquid developers.
I'm also a bit concerned about the impact that even higher rates could have on loan demand in the coming quarters. Management has spoken of the risk that higher rates will push its major served economies into a downturn, and I don't think that's a negligible risk, especially with the prices of many commodities beginning to ease.
That said, deposits continue to grow at DBS Group (generally a good measure of the underlying health of its customer base) and non-performing loans have stabilized. I don't expect lower provisioning to be a major source of upside going forward (provisioning should normalize), but the company has emerged from this latest downturn in better shape than most analysts believe. had planned at the start of the pandemic.
Perspectives
Given the varied economies served by DBS Group, there is always something to worry about from a macro perspective if you take the time to look. I don't mean that as a flippant dismissal of macroeconomic risks for the bank, but rather that I don't see anything particularly new or concerning and I think DBS Group's track record over multiple cycles should at least serve as proof. that they are up to the challenge of managing these risks.
I expect DBS Group to see further improvement in net interest margin, but I think the rate sensitivity leverage will slow from here. I also see less benefit at better credit costs. This makes DBS Group more sensitive to underlying loan growth as the main driver, and this is where the bank will have to show that it can continue to gain share, not only in established markets like Singapore and Hong Kong, but also in growing markets like China, India and Indonesia too.
Taking into account the results published by DBS Group since my last update, my modeling changes are not that significant – my FY22 base earnings estimate increases by about 3% and my FY22 estimate 23 increases by about 5%. Longer term, I still expect core earnings to grow in high single digits over the next five years and mid to high single digits over the next decade.
The essential
Between discounted core earnings and an ROE-focused P/BV approach, I believe DBS Group shares are undervalued by at least 10% today and priced for a long-term annualized return in the bracket. below middle age. While that's not a bad performance from a well-run bank that offers investors good exposure to several markets in Asia, I should note that there are many US banks today that offer a similar advantage with less macro risk (or at least a less complex risk mosaic of risks). So, I still like and recommend DBS Group, but on a relative risk/reward basis, it may not be as compelling compared to US banks as it has been at times before.