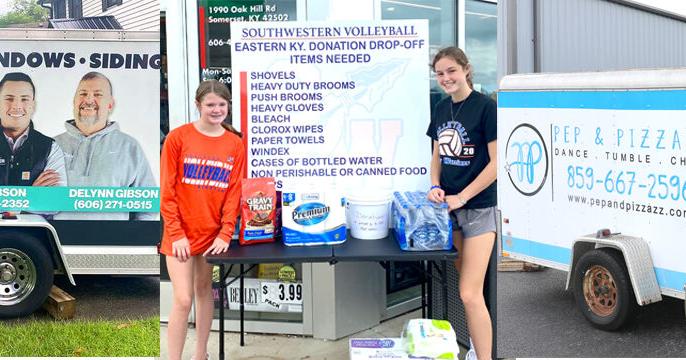 COLUMN: Local citizens lend a hand to flood victims | Community
The flooding and tragic deaths in neighboring eastern Kentucky have been the focus of attention for all Kentucky residents, as well as the nation.
Kentucky Governor Andy Beshear said the death toll rose to 28 on Sunday after last week's storms, a number he expected to rise significantly and could take weeks to find all the victims. Thirty-seven people were missing as search and rescue operations continued early Sunday, according to a daily briefing from the Federal Emergency Management Agency. A dozen shelters were open for flood victims in Kentucky with 388 occupants.
As Appalachian residents tried to slowly rebuild their lives, flash flood warnings were issued for at least eight eastern Kentucky counties.
The loss of life and the total destruction of thousands of homes and lives is almost unimaginable to think of what our neighbors in Kentucky have had to endure over the past week.
But no sooner had the news hit the airwaves in the region than masses of people, businesses and organizations took time out of their busy schedules to organize relief for their neighbors in the need. Within hours of the news, social media was bombarded with posts from local entities collecting and donating supplies for flood victims in eastern Kentucky.
While many of our large local businesses have been at the forefront of flood relief efforts, several smaller local organizations and individuals have also tried to do their part to help.
Neal Shoemaker, Cody Gilson and the Southwestern High School junior varsity volleyball team are just a few of the local people leading the relief effort.
Neal Shoemaker, owner of a local engineering business, teamed up with his daughter Britani Shoemaker, owner of Pep and Pizzazz Dance Studio, to collect supplies and cash donations for flood victims. Neal Shoemaker, who graduated from Hazard High School in 1977, was constantly in touch with his friends and family in Eastern Kentucky.
"They need everything you can imagine," Shoemaker said. "We made a trip to downtown Hazard on Saturday to drop off a load of supplies. As we got closer to Hazard, there was a sea of ​​trucks and trailers heading in that direction with supplies. Once they got there, they were literally unloading the supplies from the trailers into people's cars. In addition to the supplies we delivered, we also made a cash donation of $1,000. We were told that this cash donation fed 700 people that night.
Shoemaker was amazed at the outpouring of generosity in our area.
"Just today I received a $5,000 donation from a local land surveyor, who had been my business competitor for 25 years," Shoemaker said. "The Pep and Pizzazz family have been amazing with their efforts and donations. I'm just grateful that people trust me to take their donations and deliver them to those in need.
"We use our Pep and Pizzazz trailer to load supplies, but I've been contacted by other business owners offering to use their larger trailers if needed," Shoemaker said. "David Morris of Modern Systems said we could use one of their trailers if needed, and Mike Whitaker of Coretrans said we could use one of his tractor-trailers if needed."
Cody Gibson and his wife Trista have met and worked with people in the Whitesburg area through their work in the medical field. Cody Gibson, who is now co-owner of Barrier Roofs, felt the need to organize a supply drive for flooded Whitesburg residents.
"I know there are other much bigger local businesses doing great things collecting and donating supplies, but I felt the need to do whatever we could to help out," Gibson said. .
With his small roofing business just getting started, Gibson uses his company's only trailer in hopes of filling it with needed supplies.
"Right now, we're rethinking how we transport our roofing supplies to job sites, as our main company trailer is used to collect supplies for flood victims in eastern Kentucky," Gibson said.
Southwestern High School volleyball coach Mitzi Jones was loading her varsity team onto the bus for the Bluegrass State Games on Friday afternoon when she received a call from a representative of the 5th neighborhood for a cooperative giving campaign.
"Unfortunately, we were already on our way to the Bluegrass State Games, but we got hold of some of the girls from our junior varsity team to help out," Jones said. "These young ladies were able to get in touch with the right people at the Midland Farms store on Oak Hill Road to settle in between three and six that afternoon."
Amazingly, the Lady Warriors junior varsity volleyball team was able to raise $700 in cash and $300 in supplies in just three hours.
"I was amazed at what these young ladies did on such short notice and in such a short time," Jones said. "We plan to do more fundraising for Eastern Kentucky flood victims in the coming days."
These are just three examples of local people doing great things and trying to help their neighbors in need. As I traveled around Somerset and scrolled through my social media pages, I spotted a plethora of other businesses and people working just as hard to help flood victims in Eastern Kentucky.